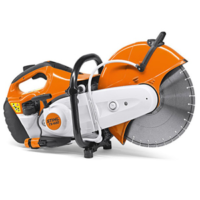 STIHL TS420 - 350mm/14"
Professional
With the TS420's 350mm/14" cutting wheels it is able to cut up to 125mm deep. The STIHL anti-vibration system guarantees the cut-off machine cuts well. The STIHL TS420 has added features including Long-life air filter system, strength-saving start-up process thanks to the decompression valve and an economically and environmentally friendly 2-MIX engine. Can be operated by hand or together with an FW 20 cart.
Specifications
Professional - 2 Stroke engine - Power output: 3.2-4.4kW/hp - Displacement: 66.7cm3 - Weight: 9.6kg
$1,499.00
This item is pickup only.
Related Products
My Cart
You have 0 items in your Shopping cart